A good night's sleep is the foundation of a healthy and productive life. It's the time when our bodies recharge, our minds reset, and our spirits rejuvenate. However, achieving the perfect night's sleep isn't solely dependent on how many hours you spend in bed; it's also about the quality of sleep you get. A key factor in determining sleep quality is the mattress you sleep on. Saatva, a pioneer in the online mattress industry, has gained a reputation for delivering unmatched comfort and quality with its range of mattresses. In this article, we'll explore what sets Saatva mattresses apart, the science behind their comfort, and why they should be your top choice when it comes to transforming your sleep experience.
Luxury in Every Detail
Saatva, founded in 2010, set out to disrupt the traditional mattress industry by offering high-quality, eco-friendly mattresses directly to consumers online. They have redefined the mattress-buying experience with a focus on customer comfort, health, and satisfaction. One of the standout features of Saatva mattresses is the attention to detail in their design and construction. Each mattress is handcrafted in the USA using premium materials, including organic cotton, eco-friendly foams, and recycled steel springs. This commitment to quality is evident in every aspect of their mattresses, from the stitching on the cover to the precision of the coils inside.
Variety to Suit Every Sleeper
Saatva recognizes that no two sleepers are the same, and their diverse product range reflects this understanding. They offer several mattress types, including:
1. Saatva Classic: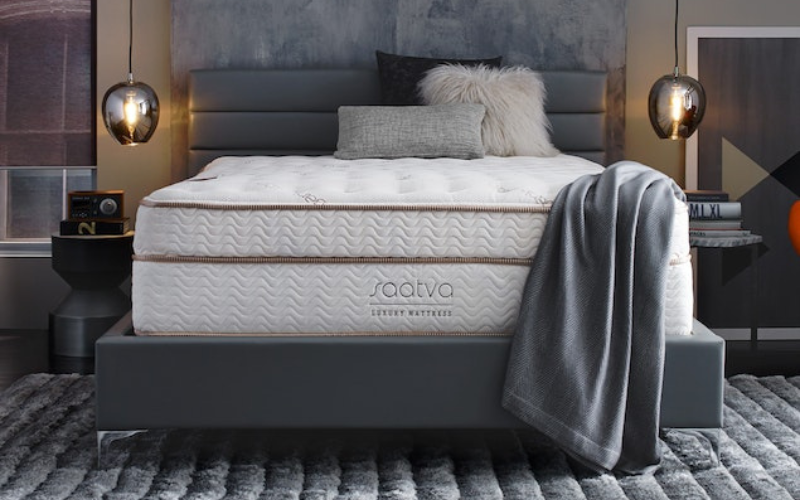 The Saatva Classic is a testament to Saatva's commitment to offering a luxurious yet supportive innerspring mattress. What sets this mattress apart is its versatility. It is available in three distinct firmness levels, making it an excellent choice for a wide range of sleep preferences. The "Plush Soft" option provides a cloud-like, soft, and plush sleeping surface, ideal for side sleepers or those who enjoy a more cradling feel. On the other hand, the "Luxury Firm" option strikes a perfect balance between support and comfort, offering a medium-firm feel that appeals to a broad spectrum of sleepers. This versatility makes it a favorite among combination sleepers who switch positions during the night. For those who seek robust support and minimal sinkage, the "Firm" version of the Saatva Classic is the answer. It's designed to maintain proper spinal alignment, making it an excellent choice for back or stomach sleepers who need a solid, supportive surface. 
2. Loom & Leaf:
Loom & Leaf represents Saatva's venture into memory foam mattresses, bringing the brand's commitment to quality and comfort into the realm of memory foam. It's an ideal choice for sleepers who appreciate the conforming support of memory foam without feeling stuck. Loom & Leaf offers two firmness options. The "Relaxed Firm" option provides a comfortable, contouring feel without being overly soft. It's a great choice for those who prefer the benefits of memory foam with additional support. On the other hand, the "Firm" version is designed for those who prefer a firmer sleeping surface. It offers the same memory foam benefits with added support, making it suitable for those who enjoy a solid, unyielding feel. 
3. Zenhaven: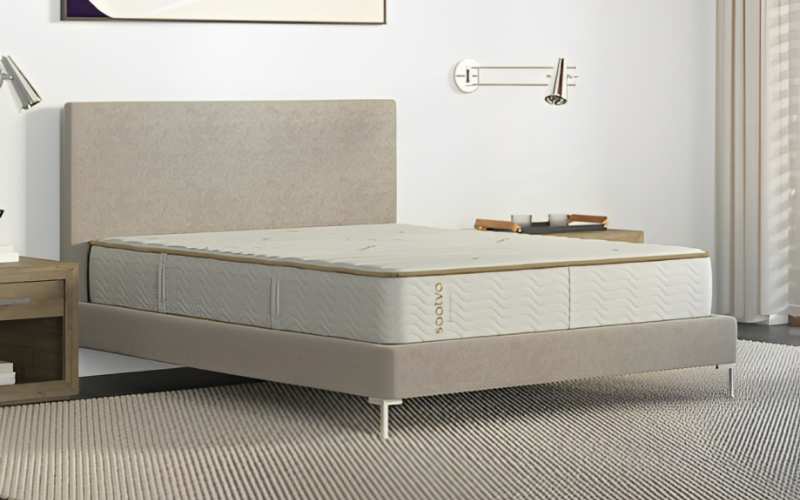 Zenhaven is Saatva's eco-conscious response, featuring an all-natural latex design. What sets Zenhaven apart is its unique flippable design, offering two firmness options in one mattress. The "Gentle Firm" side provides gentle yet supportive comfort, ideal for those who prefer a slightly firmer sleeping surface with a touch of plushness. Flipping the mattress reveals the "Luxury Plush" side, which is exceptionally soft and cushioning. It caters to sleepers who desire a more cloud-like feel. This flippable feature empowers sleepers to choose the firmness level that suits their preferences, making Zenhaven a versatile and customizable option. 
4. Saatva HD: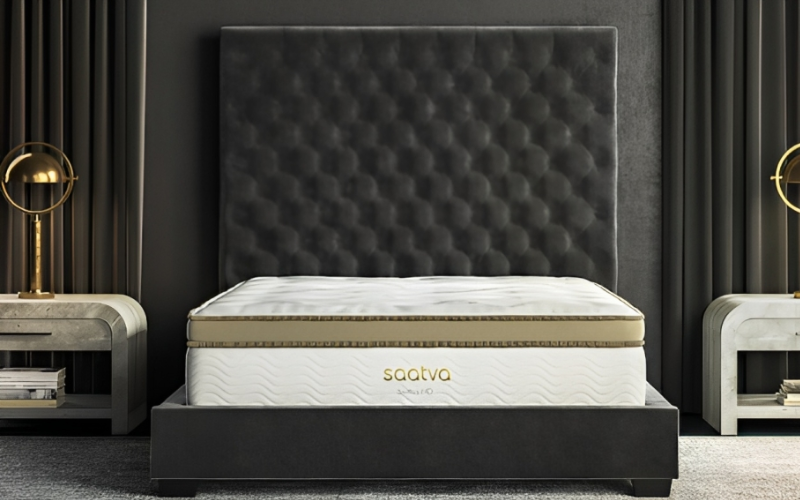 The Saatva HD is engineered to address the specific needs of heavier sleepers who require robust support and durability. It is a dedicated solution for plus-sized individuals, accommodating weights of up to 500 pounds. This specialized design ensures that heavier sleepers can enjoy the same level of comfort and support as any other Saatva mattress. The Saatva HD not only offers durability but also incorporates the luxurious features found in other Saatva mattresses. It's a testament to Saatva's commitment to inclusivity, ensuring that everyone has access to a high-quality and comfortable mattress, regardless of their body type. 
5. Solaire: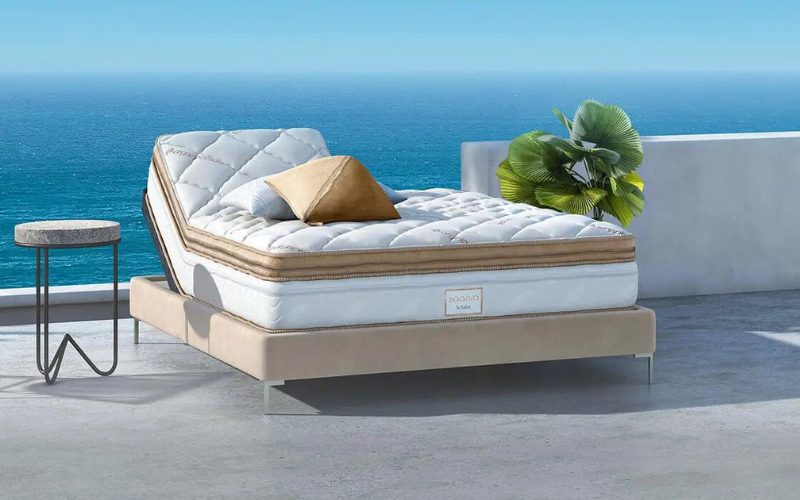 The Solaire is an adjustable airbed by Saatva, offering personalized comfort through customizable firmness settings. It's the epitome of tailored comfort, allowing sleepers to fine-tune the mattress firmness to their exact preferences. With adjustable air chambers, it's an excellent choice for couples with differing comfort needs. The Solaire ensures that each partner can enjoy their ideal level of firmness, eliminating nighttime discomfort due to varying preferences. It's also an excellent option for individuals who like to experiment and fine-tune their sleep experience, as it provides the flexibility to adjust firmness according to changing preferences and comfort requirements.
6. Memory Foam Hybrid: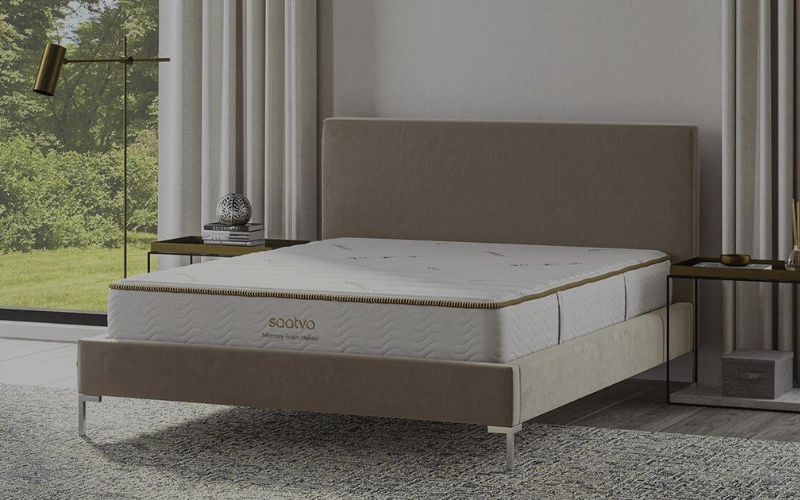 Saatva introduces the Memory Foam Hybrid, this mattress combines the plush comfort of memory foam with the support of an innerspring system, creating a balanced and luxurious sleeping surface. The top layer of this hybrid mattress is crafted from memory foam, designed to cradle your body and alleviate pressure points, offering that enveloping sensation cherished by memory foam enthusiasts. Beneath the memory foam layer, a foundation of individually wrapped coils ensures exceptional support and responsiveness. These coils adapt to your movements during the night, promoting proper spinal alignment and reducing discomfort. What sets the Memory Foam Hybrid apart is its variety of firmness options, allowing you to choose your preferred level of firmness, whether you prefer a plush, medium, or firmer feel.
7. Saatva RX:
The Saatva RX mattress represents the pinnacle of innovation in the world of sleep technology. Crafted by Saatva, renowned for its commitment to eco-friendly, high-quality mattresses, the Saatva RX seamlessly blends craftsmanship with cutting-edge features. Its standout feature lies in its dynamic comfort zones, with six adjustable zones catering to various parts of the body. From the head and shoulders to the lumbar region and legs, users can fine-tune this mattress to their exact preferences. The responsive memory foam top layer provides pressure relief and contouring support, making it ideal for those with specific sleep-related concerns. Underneath individually wrapped coils offer excellent motion isolation and durability. Additionally, the Saatva RX addresses health concerns such as acid reflux and snoring by allowing users to elevate the head, contributing to better sleep quality and overall well-being.
Conclusion
Saatva's variety of mattresses is a testament to their commitment to providing quality sleep solutions that cater to the diverse preferences and requirements of their customers. Whether you seek a classic innerspring feel, the conforming comfort of memory foam, the natural qualities of latex, or need extra support due to your body type, Saatva has a mattress designed to meet your specific needs. This extensive range of options emphasizes Saatva's dedication to ensuring that every sleeper can find the perfect mattress for a restful and rejuvenating night's sleep. Their commitment to variety extends beyond the surface, focusing on offering different firmness levels within each mattress type, ensuring that each mattress caters to a broad spectrum of comfort preferences and specific requirements. Saatva's variety ensures that their customers don't just sleep but experience a night of restful and comfortable sleep, no matter their individual preferences and needs.