Walk-in closet is the most trending thing to have in your house these days. It gives your space that luxurious look and appeal. With some good choice of contemporary designs, you can have a walk-in closet of your dreams. Try to create functional storage space and a stylish look to beautifully display your clothes and accessories. We have made this task somewhat easier for you by giving some of our best ideas.
1. Select a suitable Shape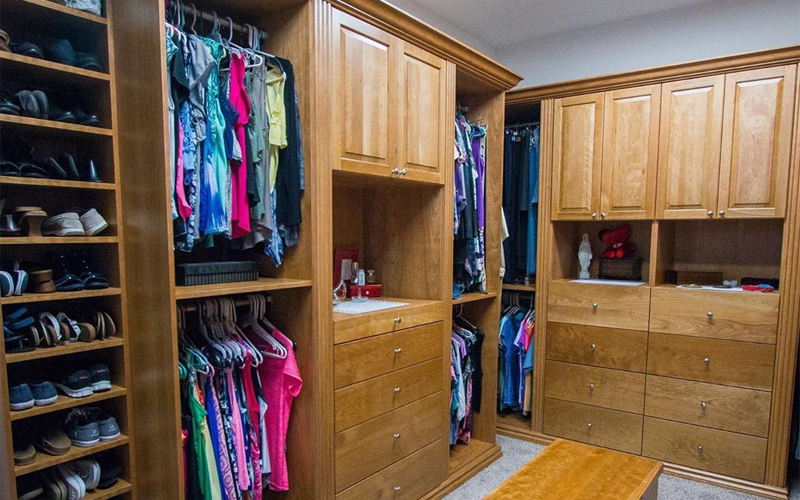 The shape of your closet depends upon the area you have and how much of it you want to dedicate to your closet space. A closet is designed generally in three shapes-
–an "L" shaped closet
–a "U" shaped closet
–a straight walk-in closet
If you want to make a closet on the two walls of your room, then go for the L-shaped one. It gives sufficient space for moving around. But if having maximum storage is on the top of your priority list, design the closet in a "U" shaped style that occupies three of your walls. A straight closet comes into picture if you have space constraints as they work really well in smaller areas. It totally depends on your need that which closet shape and design will work best for you as each one of them as its pros and cons.
2. A good amount of storage
A wide variety of clothes and accessories have been coming into the market these days and so in your house. So you need an ample amount of storage space in your house to keep all your things in a clean and organized way. Your closet should be such that you wouldn't find it difficult at times when searching for any of your belongings.
Have dedicated space for your clothing and accessories. Keep them organized and clutter-free by adding plenty of drawers. Try to have a plan that consists of shelving, cabinets, hanging space and drawers. It will definitely increase the appeal of your closet.
3. Choose a Unique Style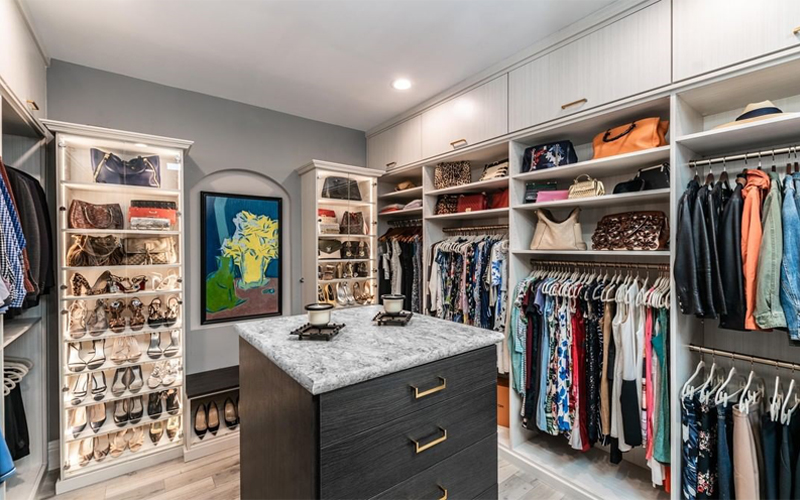 Styling is the key to get a perfect closet for your room. Pick contemporary styles to have the best uncluttered and trendy space to display your clothes beautifully. Decide the structure of your closet and pick one of these styles for it-
If you have an ample amount of space, then there is nothing better than adding a dressing island to your dressing room. You have the liberty to choose an island suitable to your needs as they come in a variety of shapes and sizes but make sure to pick one with a good amount of storage. You can ensure this by selecting the one with plenty of storage shelves and drawers, and to keep all your small precious items like jewelry, pocket change or keys, add tray or boxes to it. It will become your favorite spot to drop all your things until you need them again.
Innovative Accessory Display
There are a number of ways to make your space more stylish and classy by using innovative ideas to display your accessories. You can also take inspiration from the trendy fashion boutiques who are a pro at such things. Some of the ideas include-
1. Racks
2. Retail Jewelry Displays
3. Open Bookcases
4. Shoe Wall
This is one of the recent trends in the world of walk-in closets. You can upgrade your closet by adding a build-in vanity into it. Following components can be found in a vanity area
1. A countertop
2. A mirror
3. Dedicated Lighting
4. Drawers
5. A Stool or Seat