Having too many clothes is bliss but managing them tactfully is a task. This is because simply fluffing all your stuff in the closet is not mere organizing. You need to place the right items in the right corner for the best chronological arrangement. It is advisable to always look for similar features and then divide the things accordingly. If there is a need to add cabinets or baskets, you can do that as well because it will take less of your space. Saving space in your closet is applicable for big closets as well as small closets. Just because you have a big cupboard doesn't mean that you need to just shove things inside. Be tactful in everything you do. So here, we have some tips on how to save more space in your cupboard and make a place for all your belongings. Read on and derive them in your organizing habits-
Use Hangers
The foremost thing you can do to use most of your storage space is the usage of hangers. They are great in utility as well as style. When you are opening your closet at any time of the day, it should look organized and intact. For this purpose, it is important to use hangers tactfully. Although hangers also take a lot of storage space that would have been used by cabinets and slabs otherwise. But it is important to use them for certain types of clothing. For all those picks where you don't want to lose the crease, hangers are a must. To utilize more space, place hangers in one corner and use slab space on the other side.
Stack similar colors together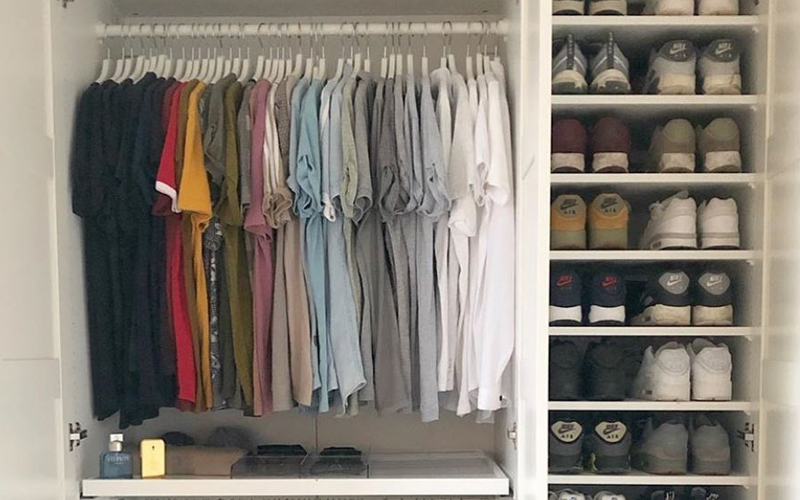 The best way to find your clothes when you have very little or no time is to stack clothing of similar colors together. This is because you obviously know what you have in mind, so it will be easy to just point out at that section of color and find the particular piece. This is a very creative and tactful idea to organize your closet. You can have all your similar colors in one place and have a give great look to the closet too. You will love to open it in front of others to show your organizing skills as well. Be creative in everything you do!
Place Baskets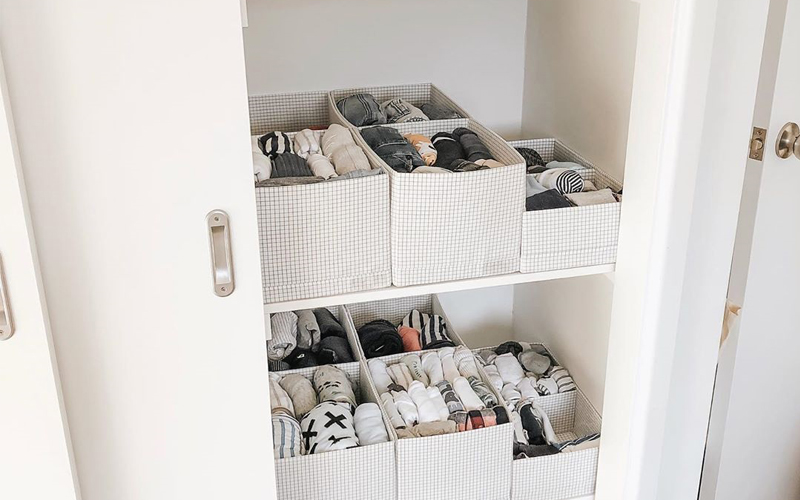 Organizing is an art and not everyone has the perfect ideas for it. But you can certainly use baskets for keeping your stuff that would otherwise take up a lot of your space. Special storage baskets have been curated specially for this purpose that you can use for all your non-important stuff. Place your accessories, workout clothing, shoes or makeup essentials in these baskets instead of just keeping them on the slab. Using baskets, you can save a lot of space. But do not use too many of them because then, the entire space will be occupied by them alone.
Rearrange your footwear
Each one of us has tons of footwear and we can't even avoid them. We buy them and stack them in the most unorganized manner. This is why they take a lot of space in our closets and in turn, irritate the hell out of us. But we must curate a tactful idea to organize them. So you should rearrange the footwear in such a manner that they face in the opposite direction just adjacent to each other. This way you can place more shoes on the shelf and save a lot of storage space. Try adding some cubicles especially for footwear and keep everything neat and tidy. Never use shoe boxes as they take up a lot of space.
Use Cabinets for delicates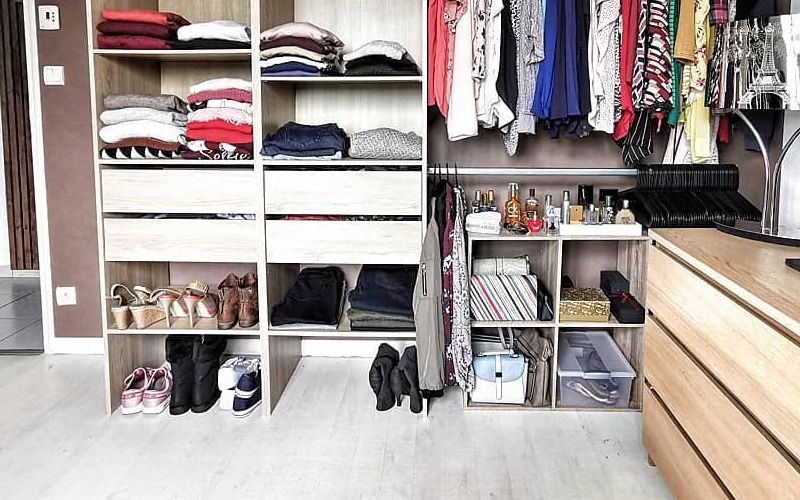 Cabinets are also a great organizer when it comes to arranging the closet tactfully. The use of cabinets will take your closet space undoubtedly but it will also make more space for the division of clothing lines. You can easily place all your essential accessories that are too delicate or maybe those things that are too precious. This way you can take care of them and also find them easily away from the hustle-bustle of the rest of the closet. These cabinets or small lockers can be placed in the cupboard in one corner. Have your things right in front of your eyes so that the next time you are looking for something, there is no time wastage.