When it comes to bathroom we hardly pay attention to the way it looks or is decorated. Well, it might not be true in some of the cases but it definitely happens with most of the people. Your bathroom space should feel equally beautiful and relaxing like any other space. The paint of the walls, furnishing does most of the job but what makes a huge difference to the way your bathroom look is the tiles. One can ignore anything but not the tiles especially if it's beautiful and striking. There are myriad tile options to choose from, you can choose the one that reflects your personal style and looks amazing with your bathroom aesthetic.
We have listed the most popular tile choices for the bathroom, keep on reading to know about them and then decide on what will appeal the best to you.
Limestone tiles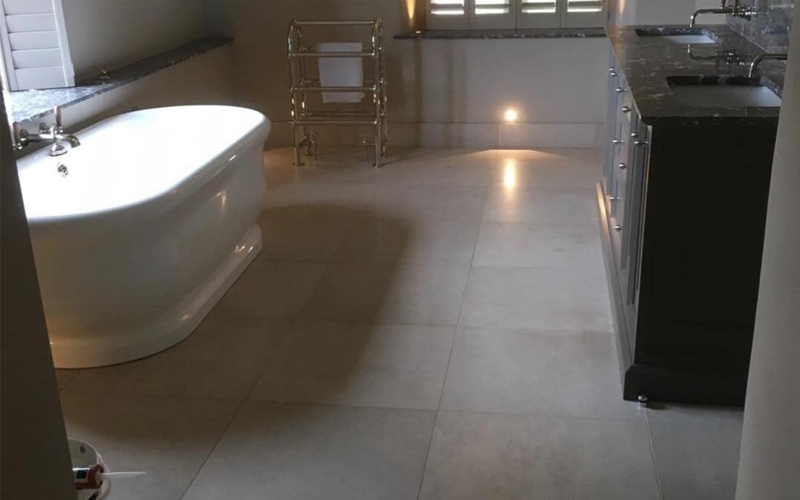 These tiles are an ideal choice for people who are looking to add a very natural and subtle toned design scheme to their bathrooms. Limestone tiles are extremely beautiful and offer great durability, so one can never go wrong with this tile option. But in order to make them stay for longer, it's important to seal them properly because limestone is a porous rock that can etch or crack very easily. Hence proper sealing is an important factor to consider here.
Limestone tiles are available in a variety of options and appearances, you can pick a style that reflects your personality and matches your aesthetic as well. From beige and brown to grey and white, all such colors bring warmth and softer element to the space and makes it appear more welcoming and comfortable.
Mosaic tiles
Mosaic tiles are another great option for you to consider adding to your bathroom. They have become really popular amongst the consumers owing to their beautiful designs, colors, and styles. One can easily inject their personal touch to the bathroom in the form of these tiles. Such tiles usually look great on the walls but can also be added to the other corners to add a unique touch to your bathroom. These tiles are made using different materials such as ceramic, glass and marble. You can pick the one that suits your style.
The size of the tiles is usually smaller than some other tiles, and they can be placed together differently to create a striking effect.
Marble tiles
Adding marble tile to any space can instantly spruce up the way it looks. They have this elegant and refined look which makes them a perfect option if you are looking to upgrade any space especially your bathroom. These tiles give a feeling of luxury and is considered to be an ideal choice if you are looking to add texture to your bathroom. Their subtle and beautiful designing is what makes them a timeless and classic piece. However, they are a little costlier on the side and are a little high-maintenance as well.
Ceramic tiles
Ceramic tiles are one of the most common and most used types of tiles found in every home. They are mostly used in the kitchen and bathroom areas. Owing to their easy cleaning and installation, they are a popular choice amongst many. Apart from that, these tiles also offer great durability and comes in a variety of styles. You can use these for your bathroom if you are tight on budget but still want the tiles to appear nice and beautiful. These cost-friendly and easy-to-maintain ceramic tiles are a good option for you to consider for your bathroom space.
Glass tiles
These stain-resistant tiles are one of the best types of tiles to consider for your bathroom, these are an easy and fantastic alternative to natural stones like limestone ones. Their stain resistance quality is another great thing about them which makes these tiles a nice option to add to your bathroom. However, it's recommended to use them on walls rather than on floors as they tend to chip off really easily. From bold to subtle, these tiles come in all different colors and designs. And the glass material of these tiles also allows you to customize them as per your style which gives you an opportunity to add a personal touch to your bathroom. They are also water-resistant and low-maintenance which makes them a practical material to go for.