Whether designing your new home office or giving it a makeover, there are a lot of things that are considered while decorating office space. While one usually tends to emphasize some furnishing and decorative pieces like table, couch, desk, and chairs, but the color of the room is also an important factor to consider. Much like any other element, the color scheme is also a larger part of the office space. It helps in defining the look and feel of space, whilst adding some color, personality, and liveliness to the room.
While you can choose any color, you like, but to maintain the decorum and productive vibes in the office space, it's important to give the color scheme a well-considered thought and then go ahead with choosing the right one for your office. Some color inspiration can be of great use when you have been contemplating on what paint color would go best in your office. And, well, to help you with this, we have listed a few color scheme ideas that will complete the look of your office.
Go monochrome with white.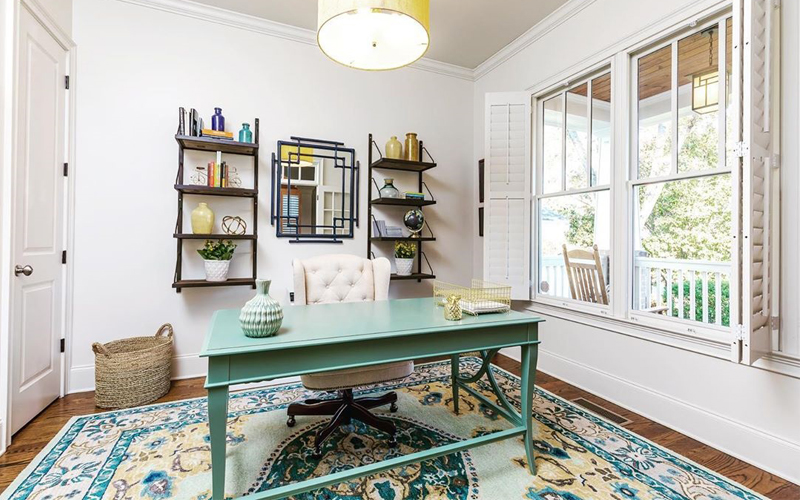 A white-colored scheme office looks no less than an elegant and modern living room. It is undoubtedly one of the schemes that nobody can ever go wrong with, especially in the office, as it instantly refreshes space and makes it feel more energizing and lively. If you are someone who is looking for a basic yet clean color scheme, then white must be your safest bet. Also, bright colors like white hold the ability to open up space, so if you are dealing with really tiny office space, white must be the right choice for you. One another great thing about the white color scheme is it never really goes out of style and also adds some airiness to the room, making it appropriate for your space.
The combination of rich wood and neutrals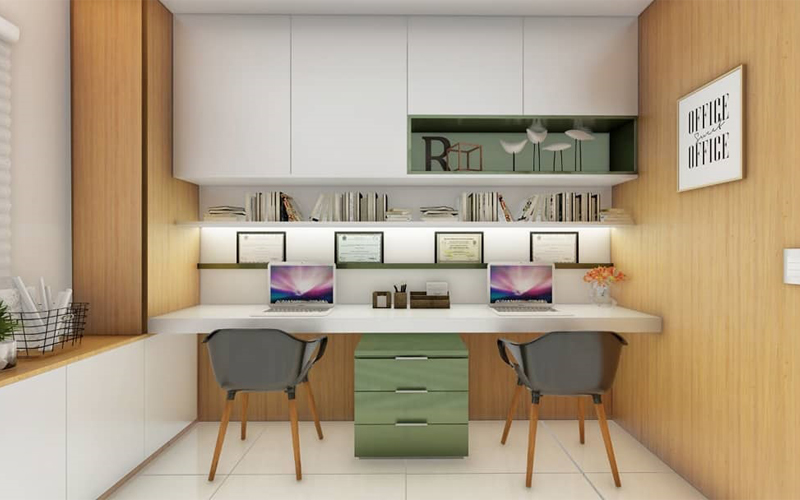 Another great color scheme to incorporate into office space is the combination of rich wood and neutrals. This color scheme is undoubtedly a very luxurious choice that can instantly make any space appear more grand and chic. Designing your office using a rich wood floor, panels, and furniture can make your office appear like an executive suite. Layering these wooden pieces with neutral tones can work like magic and complete space like nobody else. For instance, you can consider using neutral-toned rug and furniture with a rich visual texture for a better-looking result.
The combination of blue and neutrals
Yet another great color scheme that's worth trying incorporating into the office is this combination of blue and neutrals. This color scheme helps in creating a transitional office space that isn't likely to go out of style. The blue shade helps in completing the office space and also adds color to it, making it feel more productive and lively. You can choose to go with any color of your choice, but muted colors of the blue like gray-blue will be an apt choice as it doesn't overwhelm the space. As far as other pieces are concerned, the blue color is known to go well with many other shades and textures.
Bright and colorful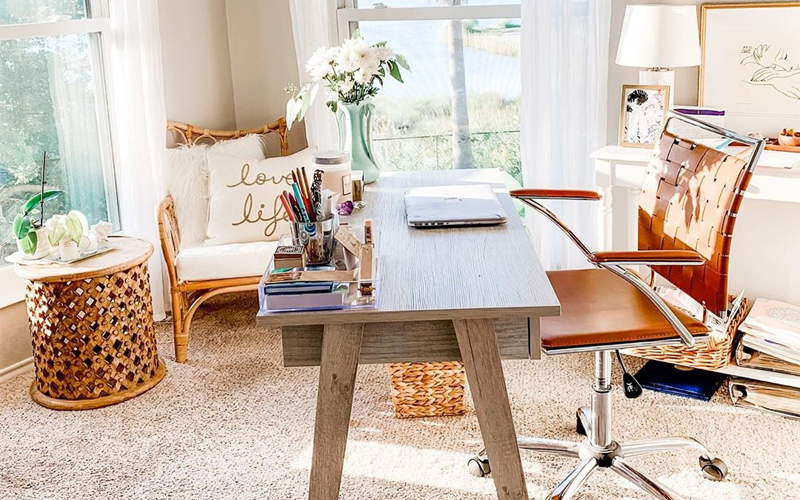 The best way to brighten up space and make it appear more colorful and energizing is by opting for bright and colorful shades. For someone who loves playing with colors, this way of designing your office will be an excellent choice for you. The key to achieving the perfect office space is by keeping the backdrop neutral and monochromatic. Some colorful elements like picture frames, books, file boxes, binders, plants, etc. are placed on the shelves to brighten up space. Doing so will make the colors pop all the more and also make the room appear very modern.
Deep red/burgundy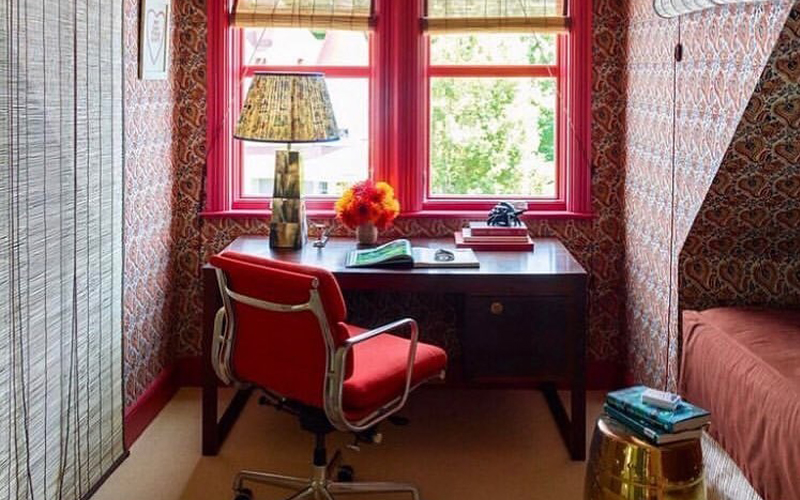 This color may look very bold to you, but in reality, it actually isn't that bold, in fact, it is a perfect balance of bold and grounded that can effectively adapt itself to your office space. If you don't like the idea of painting all the walls in this shade, then you can always have the option to paint an accent wall with the same. And you have to believe us when we say; this shade is very easy to incorporate into a home office, which can easily help in defining the entire space. Layering this shade with neutral colors like black and white will help in balancing out the proportion.